advancing medicine. precisely.
BiomX is developing both natural and engineered phage cocktails designed to target and destroy harmful bacteria in chronic diseases, such as cystic fibrosis and atopic dermatitis. BiomX discovers and validates proprietary bacterial targets and customizes phage compositions against these targets.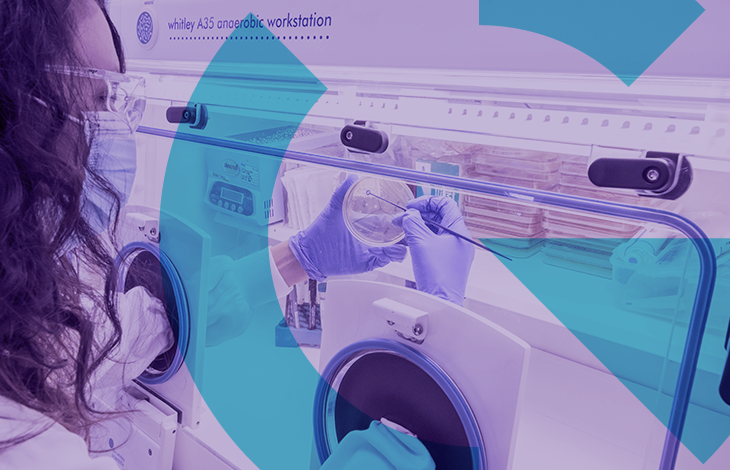 Executive Team
Ms Benjamini-Elran has over 15 years of experience in executive HR roles in global and diverse environments. At Teva Pharmaceuticals Industries Inc (NYSE:TEVA) she served in various senior roles including Director of HR of the European HQ (Netherlands) and HR manager of R&D API division. Her most recent experience was as Head of HR at Herzog, one of the largest law firms in Israel and as an independent HR consultant, advising a variety of companies in the Israeli hi-tech and biotech sectors.  Ms. Benjamini-Elran holds an MBA from Bar-Ilan University and a BA in behavioral science from Ben-Gurion University.
Board of Directors
Jason M. Marks is a senior global life sciences executive for clinical stage to commercial businesses with extensive experience in public company board management. Most recently, he served as Executive Vice President, Chief Legal and Compliance Officer, Corporate Secretary, and Senior Advisor at Amarin Corporation plc. Prior to joining Amarin, he served as Chief Legal Officer and Head of Corporate Development for TerrAscend Corp. Mr. Marks also held the position of Chief Legal Officer and Corporate Secretary for InflaRX, N.V. Earlier in his career, he held senior legal and compliance roles with Bausch Health Companies, Alcon Laboratories, and Stryker Corporation in both the United States and Europe. He received his A.B. in History from the University of Chicago and his J.D. (with honors) from the George Washington University Law School.
Michael E. Dambach has over two decades of experience in the life sciences and financial services sectors and currently serves as Vice President and Treasurer of Biogen Inc., where he is responsible for capital allocation, cash and liquidity management, financial and operational risk management, and general corporate stewardship. Prior to joining Biogen, he served as Assistant Treasurer with Thermo Fisher Scientific Inc. Earlier in his career, Mr. Dambach held several senior executive level roles within the financial services sector, including FleetBoston Financial Corporation and BankBoston. Mr. Dambach received his B.S. in Business Administration from the University of New Hampshire and his M.B.A. from Boston University. Mr. Dambach holds the Chartered Financial Analyst (CFA) certification.
Scientific Founders
Professor Sorek leads the Microbial Genomics group in the Department of Molecular Genetics at the Weizmann Institute of Science. He is a world leader in phage genomics and CRISPR research, and also develops techniques for high resolution understanding of microbial transcriptomics and metatranscriptomics. Sorek holds a Ph.D. in Human Genomics from Tel Aviv University, and in his postdoc, studied microbial metagenomics at the Lawrence Berkeley National Laboratory. Prior to joining the Weizmann Institute, Sorek headed the Genomics Research Group at Compugen (Nasdaq:CGEN). Prof. Sorek is also an author of numerous scientific publications in top-tier journals, and an inventor of more than 35 patents. He has received multiple awards, including the 2012 Rubinowitz-Grossman Prize in Microbiology, the 2013 Teva Founders Award for young scientists, and the 2014 FEBS Anniversary Prize. In 2015, Sorek was elected as a member of the European Academy of Microbiology.
Professor Elinav is a senior scientist leading a research group in the Immunology Department at the Weizmann Institute of Science. Elinav has over 110 published articles and received several awards for his work, including the 2013 Alon Prize and the 2015 Rappaport Prize for outstanding biomedical research. Before joining the Weizmann Institute, Professor Elinav held an independent research position at the Institute for Gastroenterology and Liver Disease at the Tel Aviv Sourasky Medical Center. He Elinav completed his M.D. at the Hebrew University of Jerusalem Hadassah Medical Center summa cum laude, followed by internship, residency, clinical, and research positions at the Tel Aviv Medical Center Gastroenterology Institute. Elinav also has a Ph.D. in immunology from the Weizmann Institute of Science and served in a postdoctoral fellowship at the Yale University School of Medicine.
Professor Lu is an associate professor leading the Synthetic Biology Group in the Department of Electrical Engineering and Computer Science and the Department of Biological Engineering at MIT. Prof. Lu graduated with an S.B. and M.Eng. from MIT, and an M.D./Ph.D. from the Harvard-MIT Health Sciences and Technology program. He is also a core member of the MIT Synthetic Biology Center and a co-founder of multiple biotechnology companies that develop innovative diagnostic and therapeutic technologies for human health. Prof. Lu is a recipient of the ACS Synthetic Biology Young Investigator Award, the Biochemical Engineering Journal Young Investigator Award, the NIH New Innovator Award, the Presidential Early Career Award for Scientists and Engineers, and the Ellison Medical Foundation New Scholar in Aging Award, among others.
Our Partners


Sign up for the latest updates
Join our mailing list to receive company updates
delivered to your inbox
Join the list